NEW Clarins Extra-Firming
Find your extra with Clarins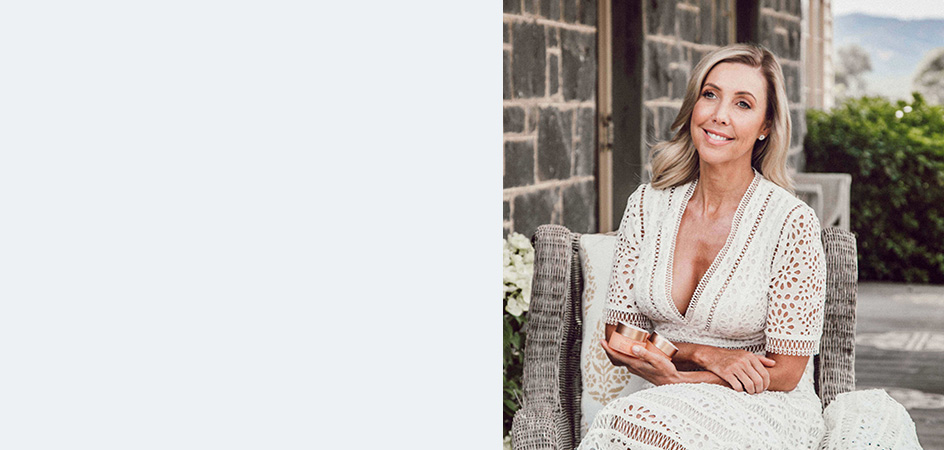 Catriona
Rowntree
"We all want an easy way to smooth wrinkles and boost firmness and this delicious smelling cream melts into the skin."
Catriona's Favourite Products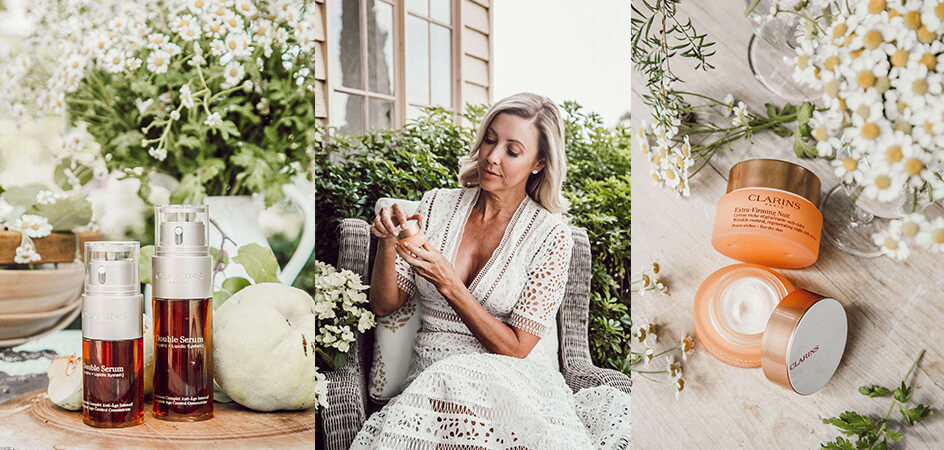 Catriona's Favourite Products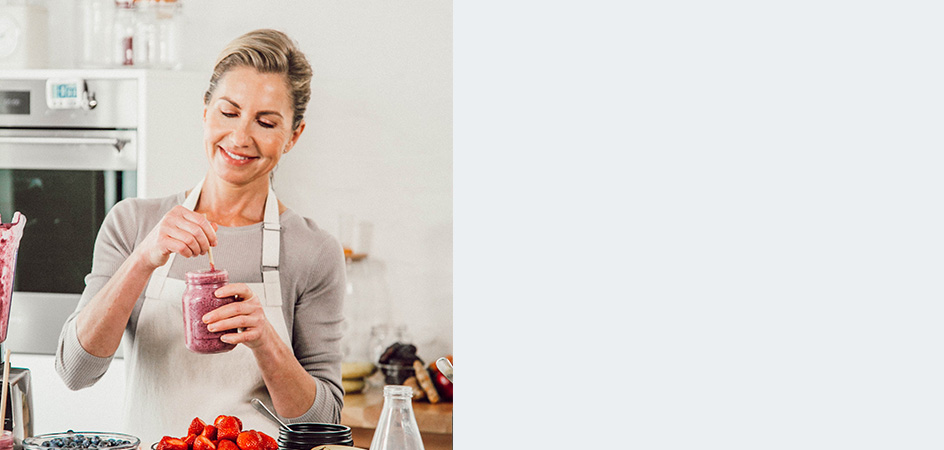 Teresa

Cutter

"Skin health is naturally linked the foods that you eat. It's all about glowing from the inside out."
Inner health, outer beauty
Inner health, outer beauty
Extra-Firming Day Cream

Age-defying day cream that visibly firms, lifts, fights wrinkles, and protects, with Broad Spectrum SPF 15 sunscreen.

Extra-Firming Night Cream

Age-defying night cream that visibly firms, lifts, and fights wrinkles.

Extra-Firming Mask

Visibly smoothes stress lines, firms, revives radiance

Extra-Firming Mask

$105.00
Beauty Boosting Smoothie
Beauty Boosting Smoothie
BEAUTY BOOSTING SMOOTHIE

The Healthy Chef, Teresa Cutter's skin saving, anti-ageing smoothie that takes one minute to prepare. It contains a blend of berries, superfoods, protein and essential healthy fats to nourish and maintain healthy skin and make it glow.

Ingredients

• 1 cup frozen berries
• 1 banana
• 1 cup almond milk or cold rosehip + hibiscus tea
• 1 tablespoon Healthy Chef Organic Superfood
• 1 tablespoon Healthy Chef Protein
Combine all the ingredients into a blender and blend until smooth and creamy. Enjoy daily for breakfast or as a quick and healthy lunch.
Superfood Berry Bliss Balls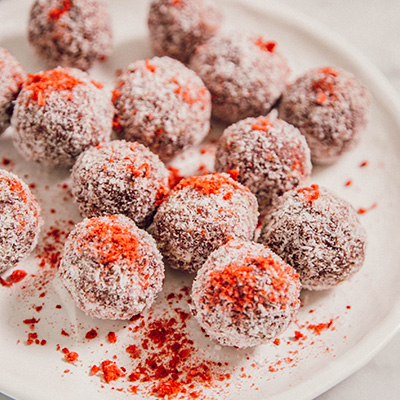 SUPERFOOD RASPBERRY COCONUT BLISS BALLS
These delicious SuperfoodBliss Balls are full of antioxidants as well as protein and healthy fats to keep you satisfied for hours.
1 ½ cup (225 g) raw cashew nuts
1 cup (75 g) desiccated coconut + more for rolling
zest of 1 lemon
½ cup (60 g) frozen raspberries
1 tablespoon Healthy Chef Organic Superfood
1/4 cup – 2 generous heaped tablespoons Healthy Chef Vanilla Protein
1 tablespoon cold-pressed coconut oil
1 tablespoon organic maple syrup or rice malt syrup or a little stevia.

Combine the cashews, coconut, lemon zest, Organic Superfood and Vanilla Protein into a food processor or high-speed blender.
Process until all of the ingredients have combined and mixture looks crumbly.
Add the frozen raspberries and blend again for a few seconds until mixed through.
Transfer the bliss balls from the food processor into a mixing bowl.
Add the coconut oil and maple syrup, then mix through until combined.
Roll into 16 bliss balls, I used a small ice cream scoop for mine to make sure they are all the same size.
Roll balls in desiccated coconut until well coated.
Store in the fridge to set. This takes about 1 hour.
Superfood Bliss balls will keep in the fridge for up to 7 days. Perfect to enjoy as a healthy snack, post-training recovery fuel or as a healthy and quick breakfast on the go. They can also be frozen.
The bliss balls are gluten free, sugar-free, dairy free, vegan and paleo. For a nut-free option, substitute the cashews for sunflower seeds.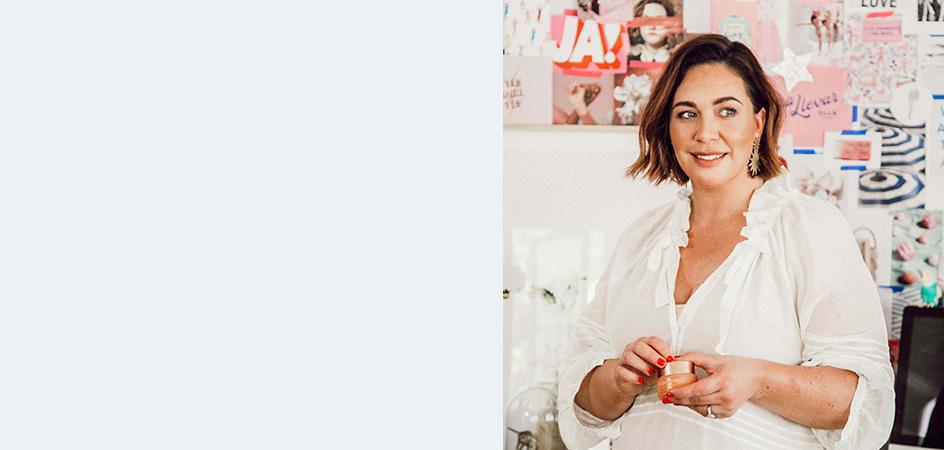 Kara

Hynes

"I love having a space where I can be with my thoughts and bring my visions to life."
Creating a space for you
Creating a space for you
How to create your own haven

How to create your own haven
Finding your extra with Kara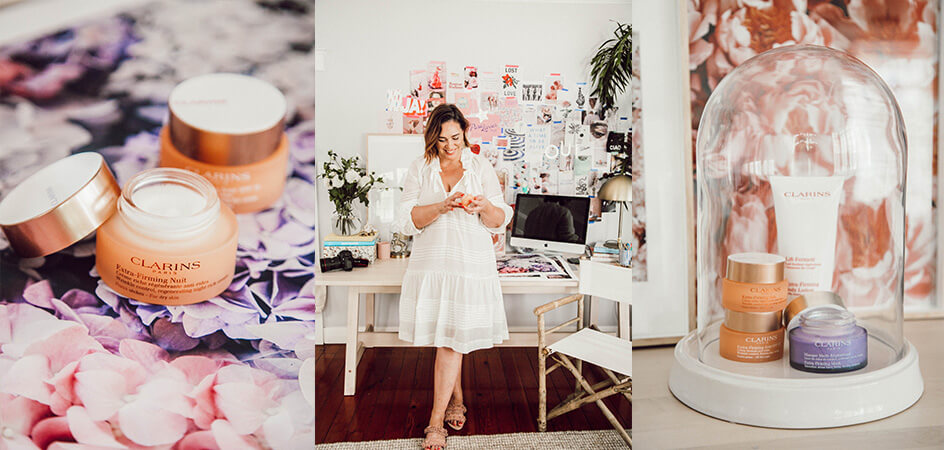 Finding your extra with Kara
Extra-Firming Day Cream

Age-defying day cream that visibly firms, lifts, fights wrinkles, and protects, with Broad Spectrum SPF 15 sunscreen.

Extra-Firming Night Cream

Age-defying night cream that visibly firms, lifts, and fights wrinkles.

Extra-Firming Mask

Visibly smoothes stress lines, firms, revives radiance

Extra-Firming Masks

$105.00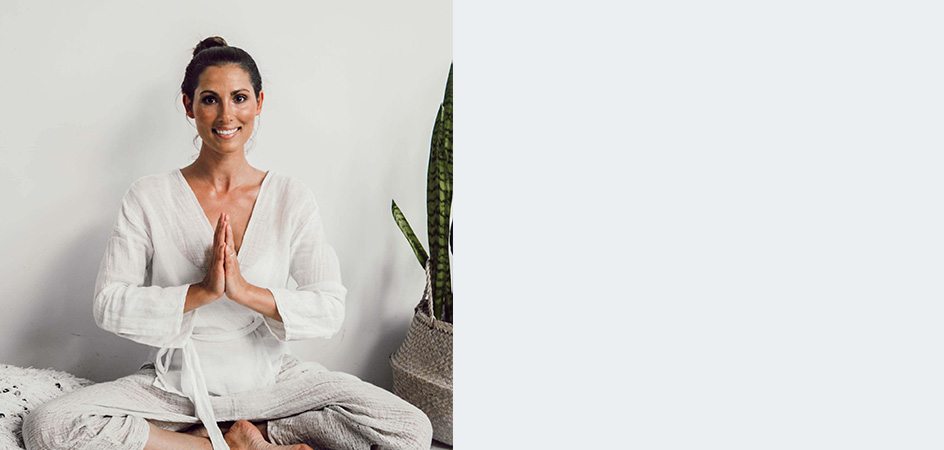 Gabriella
Woodward
"Taking time out every day is important for my spirit to replenish and allows me to stay focused and centred."
Meditation and wellness

Meditation and wellness
Guided breathing
Guided breathing
Find your extra with Gabriella
Find your extra with Gabriella
Extra-Firming Day Cream

Age-defying day cream that visibly firms, lifts, fights wrinkles, and protects, with Broad Spectrum SPF 15 sunscreen.

Extra-Firming Night Cream

Age-defying night cream that visibly firms, lifts, and fights wrinkles.

Body Tonic Oil

Firmness, Tone and Elasticity Made from 100% Pure Plant Extracts

Body Tonic Oil

$72.00