THE ONE AND ONLY
Double Serum
TOTAL ANTI-AGEING TREATMENT.
Trusted and perfected for 35 years.
Worldwide bestseller*
Double Serum's cutting-edge formula is powered by 21 potent plant extracts—including age-defying Turmeric—to effectively target all visible signs of ageing.
Clarins' unique two-phase formula is inspired by the water and oil nature of the skin. The iconic dual-chamber bottle houses the [Hydric + Lipidic] System and dispenses the perfect ratio of water-soluble (hydric) and oil-soluble (lipidic) ingredients.
*Within the Clarins brand. Internal worldwide sales data.
2019 Double Serum range.
No empty promises, only results
Women around the world agree*, Double Serum is our most powerful age-control concentrate! Based on Anti-Ageing expertise developed over more than 30 years, the formula has proven highly effective for women of all ages and all skin types, even sensitive skin.
Noticeable, concrete results in only 7 days*:
• Instant radiance

• Reduced appearance of pores and fine lines

• Visibly younger-looking skin
*Satisfaction test - multi-ethnic panel - 362 women
"A must-have for every woman"
#mydoubleserum
Florence - Facebook
Open
X
Tested, Trusted, Recommended
Women everywhere have added the Double Serum to their skincare routine, achieving:

Smoother
skin (90%)*

Firmer
skin (81%)*

Radiant
skin (87%)*

More
beautiful
skin (85%)*
Our clients' satisfaction is clear: one Double Serum is sold every 8 seconds.
*Satisfaction test - multi-ethnic panel - 362 women

Experience the product
An adjustable pump design? Sweet!
As season shift and weather fluctuates, find the perfect amount of Double Serum your skin needs. Have it all, in one easy gesture!
Drag the arrow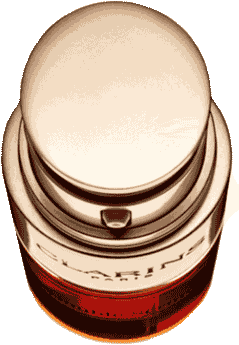 [21] Ingredients
Your Double Serum is a bio-inspired formula that respects the planet, with no less than 21 active plant extracts, including Turmeric. Turmeric is a renowned ingredient that plays a key role in the anti-ageing process.
Turmeric, efficiency centric!
Bio-inspiration is at the heart of the Double Serum's concept with its dual [Hydric+Lipidic] phases based on the skin's own water and oil content.
This formula goes even further: its star ingredient, Turmeric extract, is highly concentrated in turmerone and was selected for its ability to improving the appearance of ageing skin.
A perfect combination that offers complete age-control action.
At the heart of cellular expression
The anti-ageing benefits from organic ingredients mix together at the last minute, upon application, to help optimise cells 'language'.
The Double Serum includes all of Clarins most recent plant discoveries for a targeted action and an optimal impact on the skin's 5 vital functions:
REGENERATION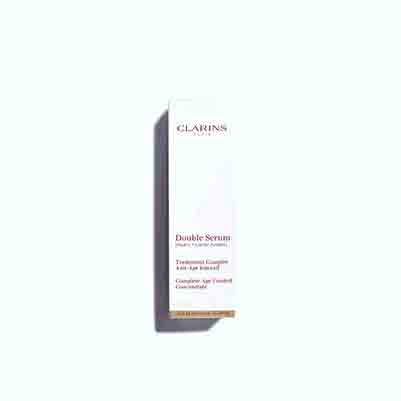 Good for the skin. Good for the planet
Responsible beauty
With 9 organic ingredients from which 3 are fair trade certified, Clarins created the most natural formula possible which includes organic ingredients sourced from fair trade practices, whenever possible.
Less waste
Double Serum' eco-friendly bottle is made from recycled materials, and now requires less packaging. The double pump bottle delivers just the right amount of product for your skin's needs to prevent overconsumption.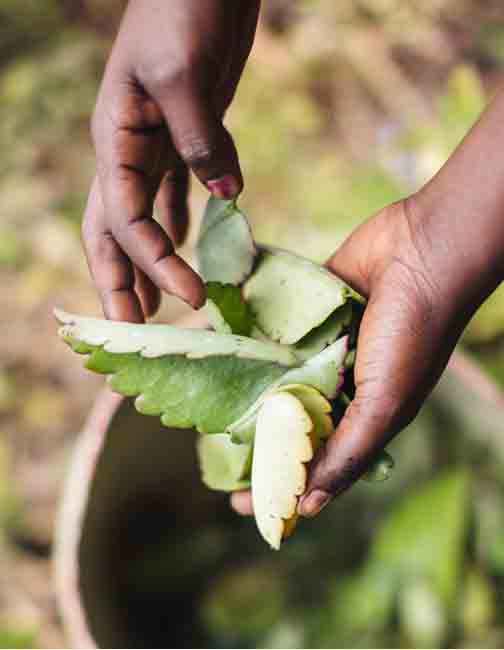 Getting the gist
Our Double Serum's unique and innovative formula boosts the effectiveness of Anti-Ageing creams. When used with the Double Serum, the effects of Multi-Active, Extra-Firming, Super Restorative and Nutri-Lumière creams are multiplied, leaving skin feeling rejuvenated.
Skin care for every age
Intensive day cream replenishing at all levels
I've been using this serum for about 4 years now and the new formula is even better and I absolutely love it!
#mydoubleserum
Hani120 – Livingstone
One of the best Clarins products
#mydoubleserum
Prue - Australia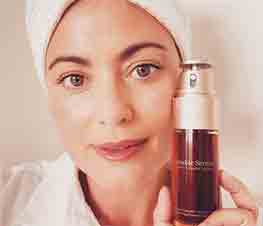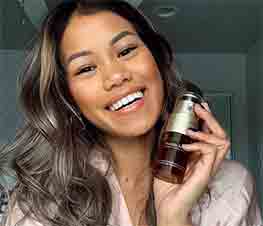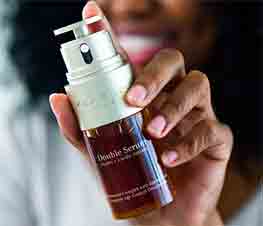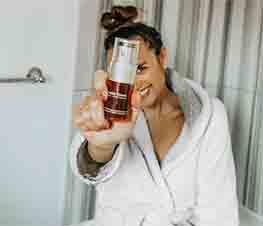 Ready to push things forward?
Feel free to share beauty tips and techniques to try at home.

Double Serum
1.6 FL. OZ.
$149.00
1.6 FL. OZ.
$149.00