& CLARINS
A PARTNERSHIP FROM THE HEART
It was born in 2011 from the encounter between two humanists, convinced that the education of children can contribute to a better world:

Christian Courtin-Clarins and Lauren Bush. Clarins and FEED are proud to support the UN food aid organization: WFP*.
Together we allow thousands of children to eat better and follow a normal education.
*World Food Program

To date, together we have distributed:
school meals around the world.



OUR COMMITMENT
Taking action for the health and education of children is a priority for the Clarins Group. Since 2011, Clarins and FEED have supported WFP *, the UN food aid organisation.
YOUR GIFT
Receive your 4-piece FEED gift
when you spend $70 or more on the Clarins range.
*One gift per customer, available while stocks last. Not available in conjunction with any other offer or gift set. Gift contains deluxe travel size products. Qualifying purchase must be made in a single transaction.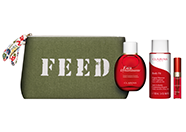 1 FEED Gift
=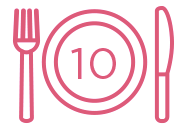 10 school meals
distributed.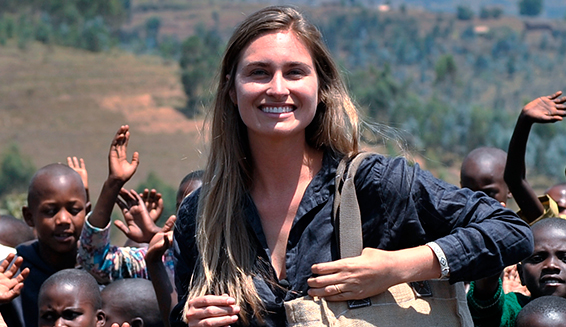 Lauren Bush :
a committed woman.
After a trip as a spokesperson for the United Nations World Food Program (WFP) which confronts her with world hunger, Lauren Bush founded FEED Projects in 2007 to set up school feeding programs. She has the idea of creating a product that educates the general public about the increase in hunger in the world: she designs and promotes the first bag, the FEED 1 bag: "1" for 1 meal for 1 schoolchild for 1 year.
Why FEED & Clarins?
The future is our children. We must bring them Education, Nutrition and Health
Christian Courtin-Clarins
One meal, multiple benefits.
Funding school meals not only feeds the children who need it, but also promotes school attendance and access to education.
Beyond the fight against malnutrition, these meals are also an opportunity for these children to learn, play, grow and receive the education they deserve. A whole year of meals and studies:
it can change the course of a life.
Discover in pictures some of our actions in the field:
Partnership timeline
2011

First partnership with the American Clarins subsidiary exclusively with Nordstrom then Bloomingdales.

Exclusive partnership with Colette, Paris

343,625 meals

2012

FEED's 5th anniversary: "Clarins Million Meals Concert for FEED", New York

1,421,100 meals

2013

FEED 10 & Clarins pouch in over 15 countries.
1 pouch = 10 school meals.

Million Meal Campaign in the USA

2,075,040 meals

2014

FEED & Clarins Collection in over 15 countries: Give your support with FEED & Clarins.

3,099,970 meals

2015

FEED & Clarins collection in over 30 countries.

3,954,850 meals

2016

FEED & Clarins collection in over 40 countries.

4,452,155 meals

2017

FEED & Clarins collection in over 40 countries.

4,135,010 meals

2018

FEED & Clarins collection in over 40 countries.

4,045,010 meals

2019

FEED & Clarins collection in over 40 countries.

4,314,910 meals

2020

FEED & Clarins collection in over 40 countries.

3,968,710 meals